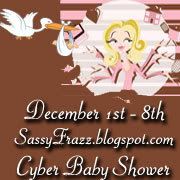 Sassyfrazz is due to have baby number 4 soon. As a guest at her shower, I'm going to play some games here to see if I can win:

The First Choice of Prizes will go to: The sweetest picture
of Daddy's first picture with their new baby. This can be a picture right at
the hospital/in home birth, or just a few days/weeks old of the baby.



This is a picture of my oldest son, Jeremy and my oldest grandson, "AJ". It was taken almost 6 years ago. I can't believe how young my son looks here. He has this picture entitled "My first whole day as a dad" on his MySpace page. I think that's pretty sweet myself.
And just in case that one isn't sweet enough, (and to be fair to my step-son, Dan and his little guy, "HD" that was born just before Christmas last year), here's one of them too. This was obviously in the hospital after a very, very long night.



The Second Choice of Prizes will go to: The person who guesses the correct
birth weight of my second child, Caleb, who is now 3 1/2 years old. He was 3
days overdue, and I was induced with him. Those are the only clues I will give you.
:)




Hmmmm.... I think he was pretty big, but I don't remember the exact stats.
I'll guess 8 lbs 13 oz. Am I right?


The Third, Fourth, and Fifth Choice of Prizes will go to: The most creative creation of a baby and/or a pregnant Mom made out of play-doh. That's
right...time to get creative, regress to your childhood days, and have a blast making your masterpiece. Yes, you can ask your kids to help with this one. I am all about having fun with your kids!




I think I'll pass on this one, I don' t believe I even have any playdoh in the house. Congratulations, Sarah!